A UNIQUE SOUTHERN ALPS DINING EXPERIENCE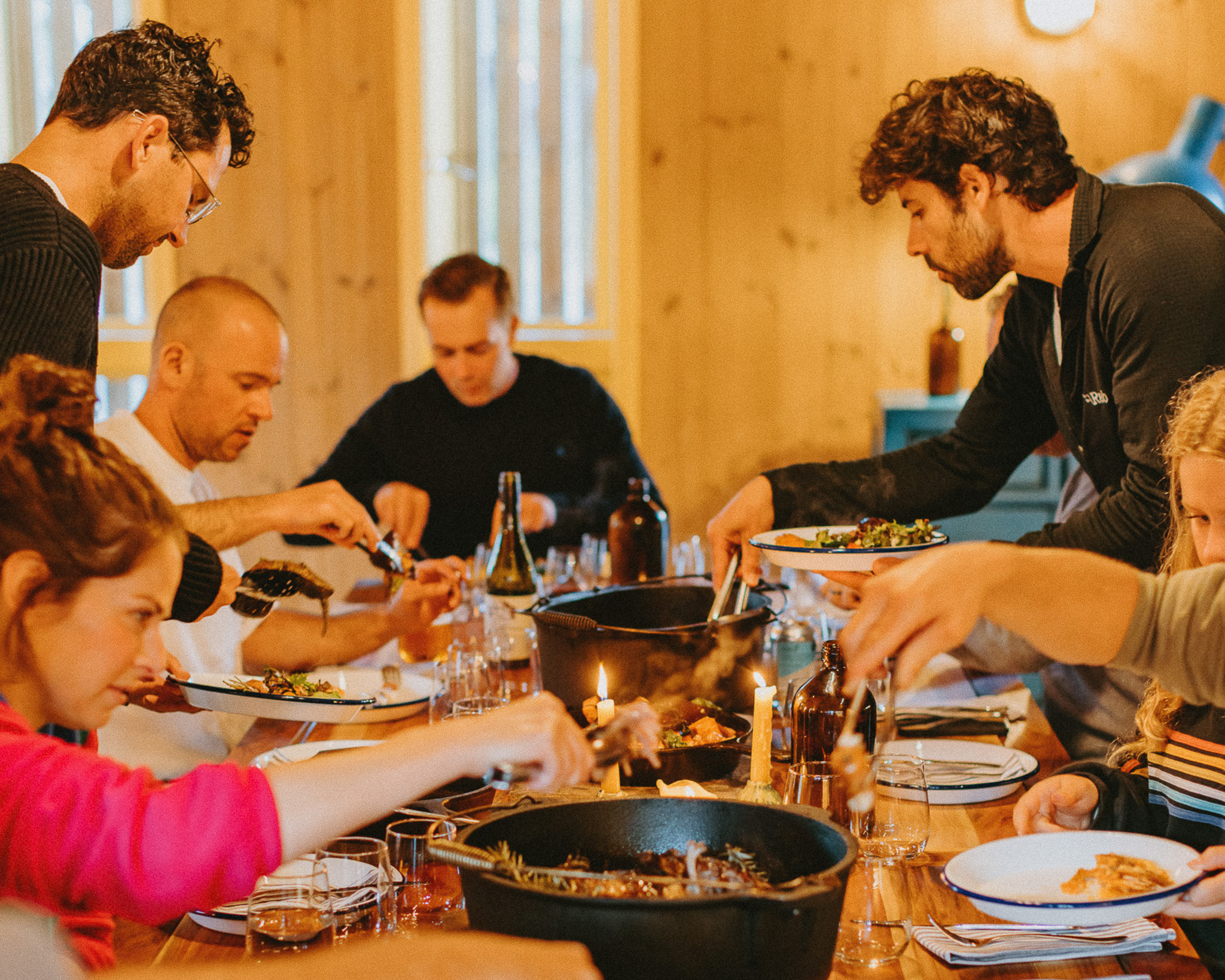 OUR UNIQUE SOUTHERN ALPS DINING EXPERIENCE
We have a licensed restaurant here, but we look at it differently. Instead, it's much more like dinner at our place. 
Sharing a table, sharing food, sharing stories, meeting other interesting mountain loving people, and all within The Great Glenorchy Alpine Base Camp, your wild nature adventure base.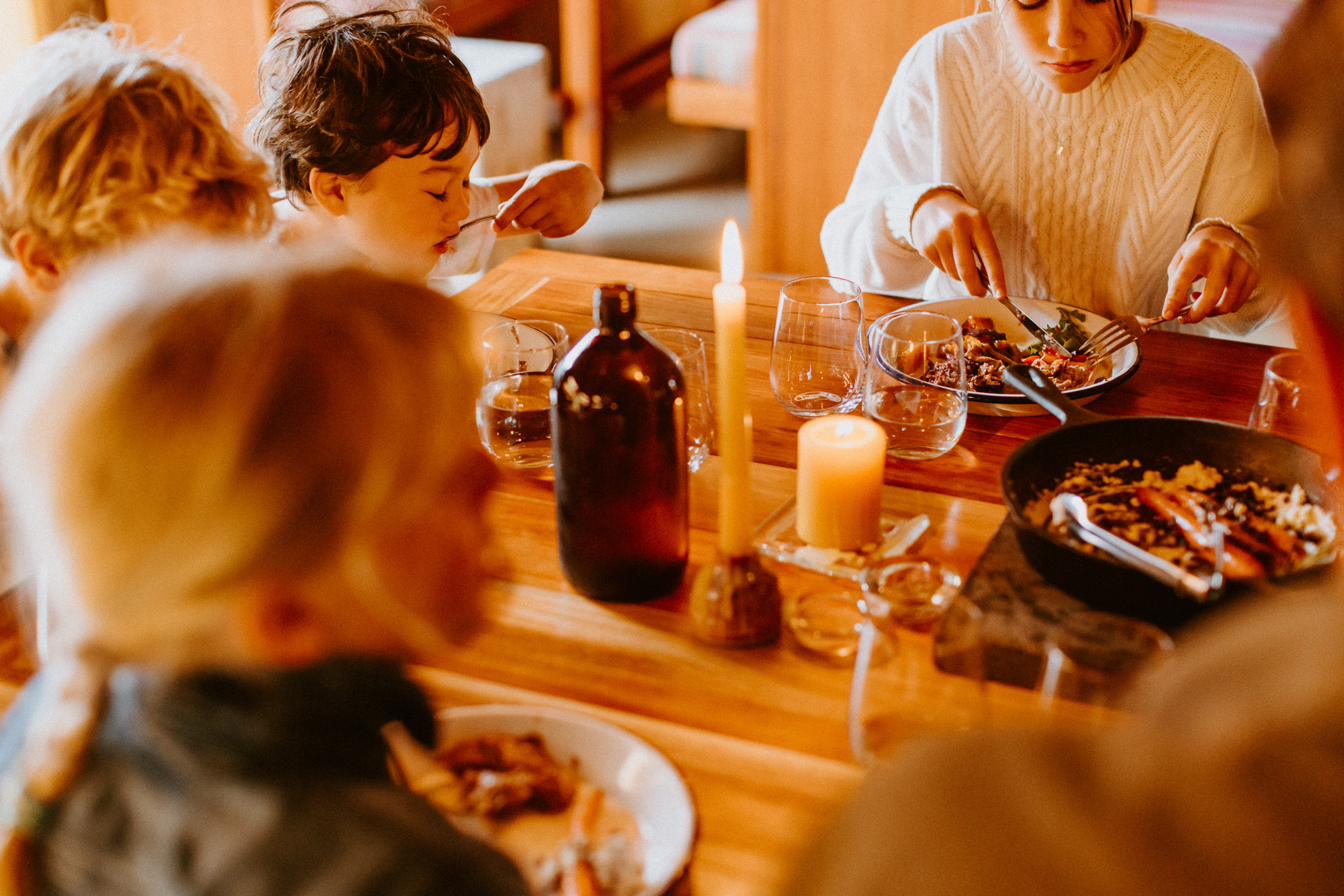 Our bar opens at 6pm and we have one dinner service each night, served straight from our wood-fired ovens at approximately 7pm.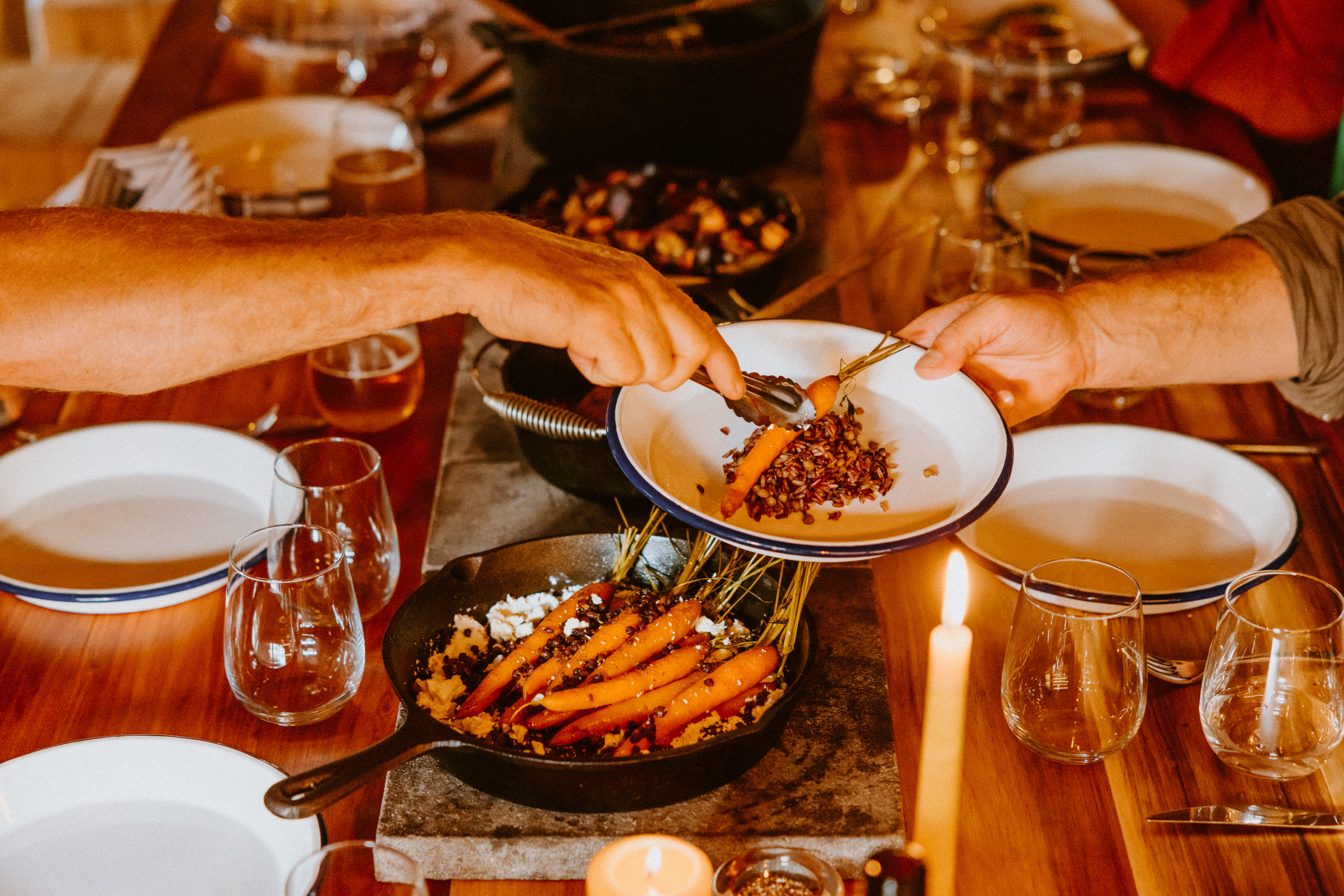 You will be seated at a long shared table. Individual places are pre-set and when its meal time, your dishes will be served in cast iron camp ovens and placed centrally.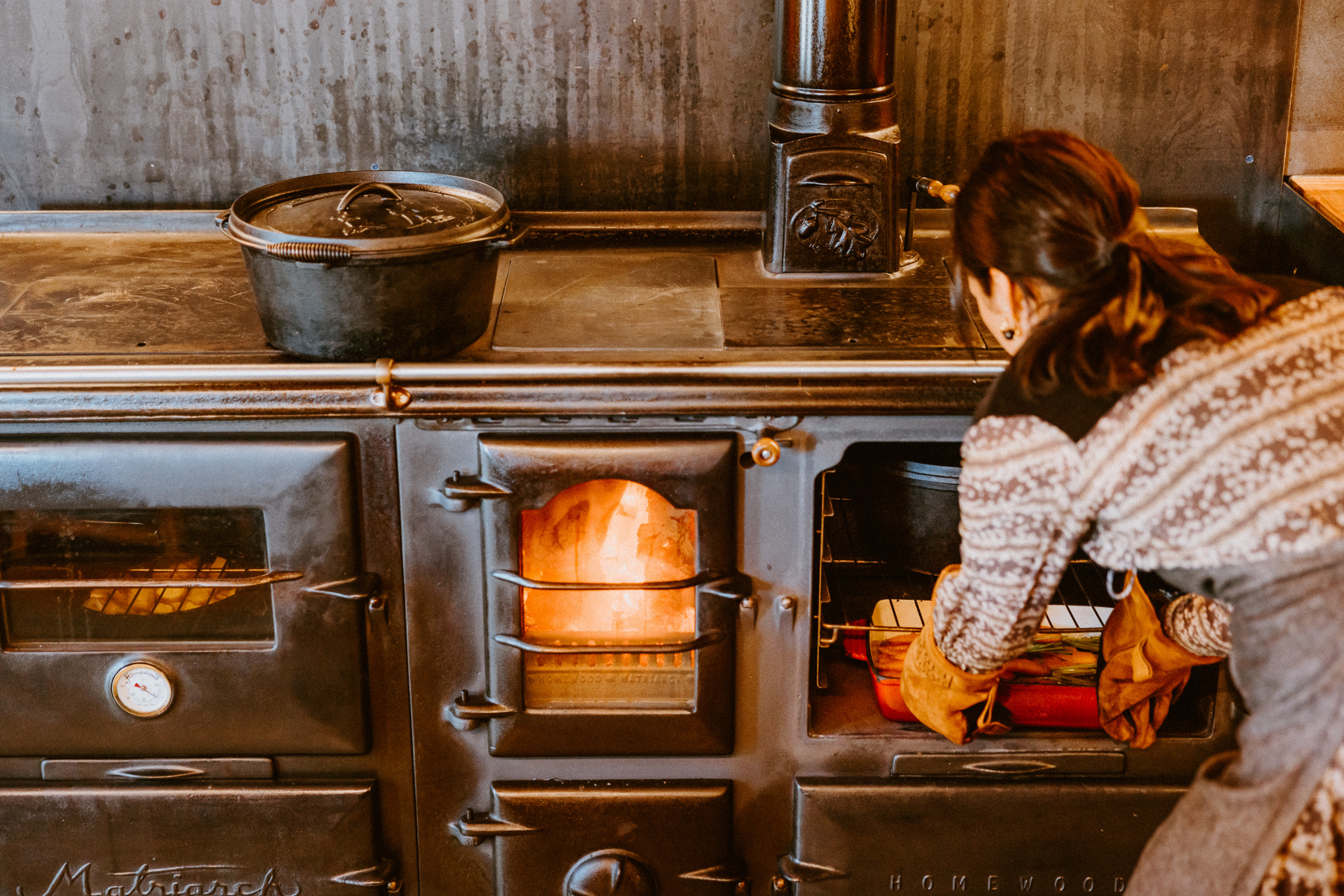 All food is cooked in cast iron in our wood fired oven and our BBQ. Healthy, delicious whole food with seasonal and fresh ingredients.
Adult (13+): $70
Child (6-12): $30
Infant (0-5): BYO Food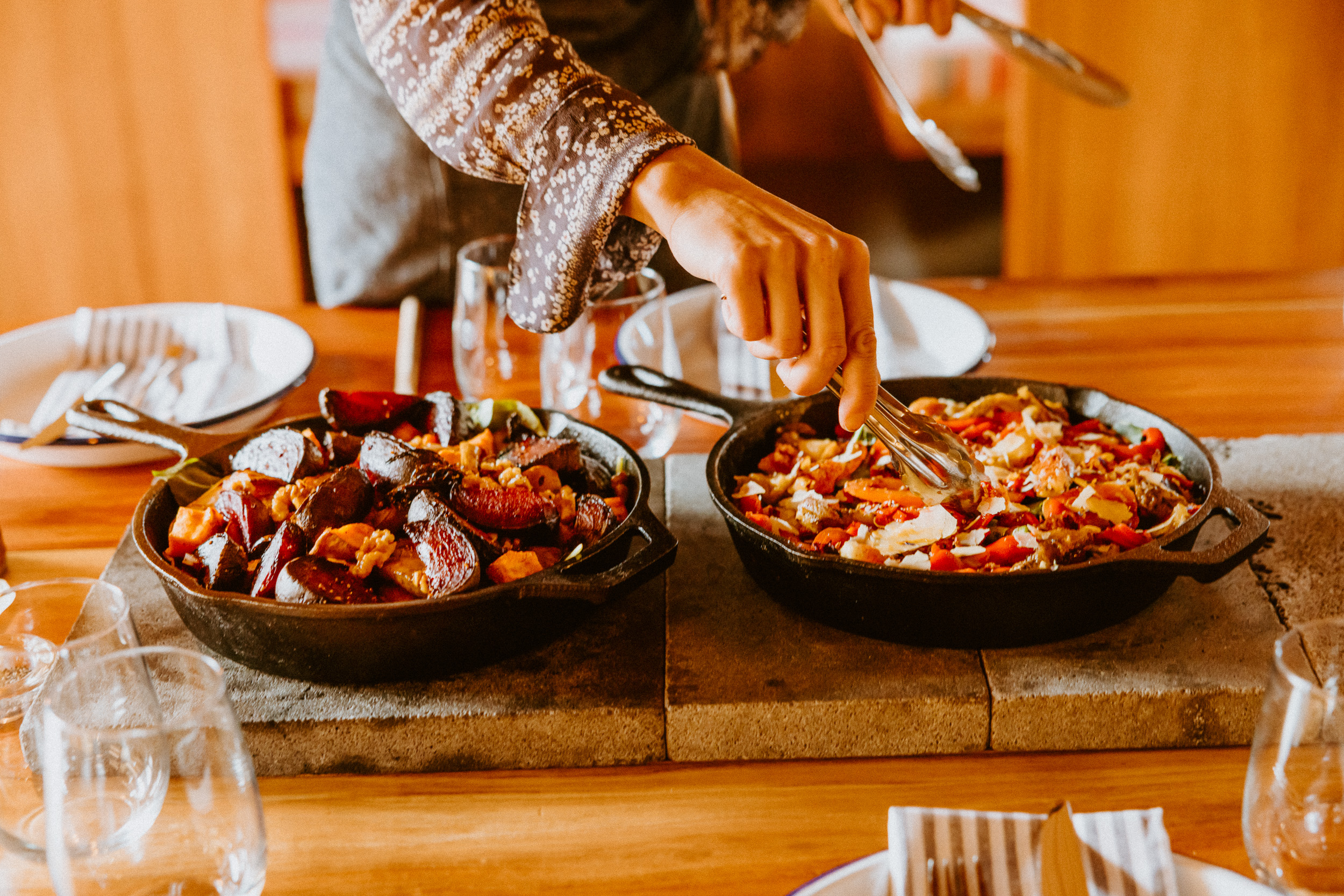 There are always vegetarian and vegan dishes with every dinner service. It's good for everyone. Some examples might include: eggplant parmigiana, or a BBQ maple cauliflower, or wood-fired baby carrots over a spicy parsnip puree, or a baked butternut pumpkin with peanut butter and fresh chilli, or a kumara with two bean gratin.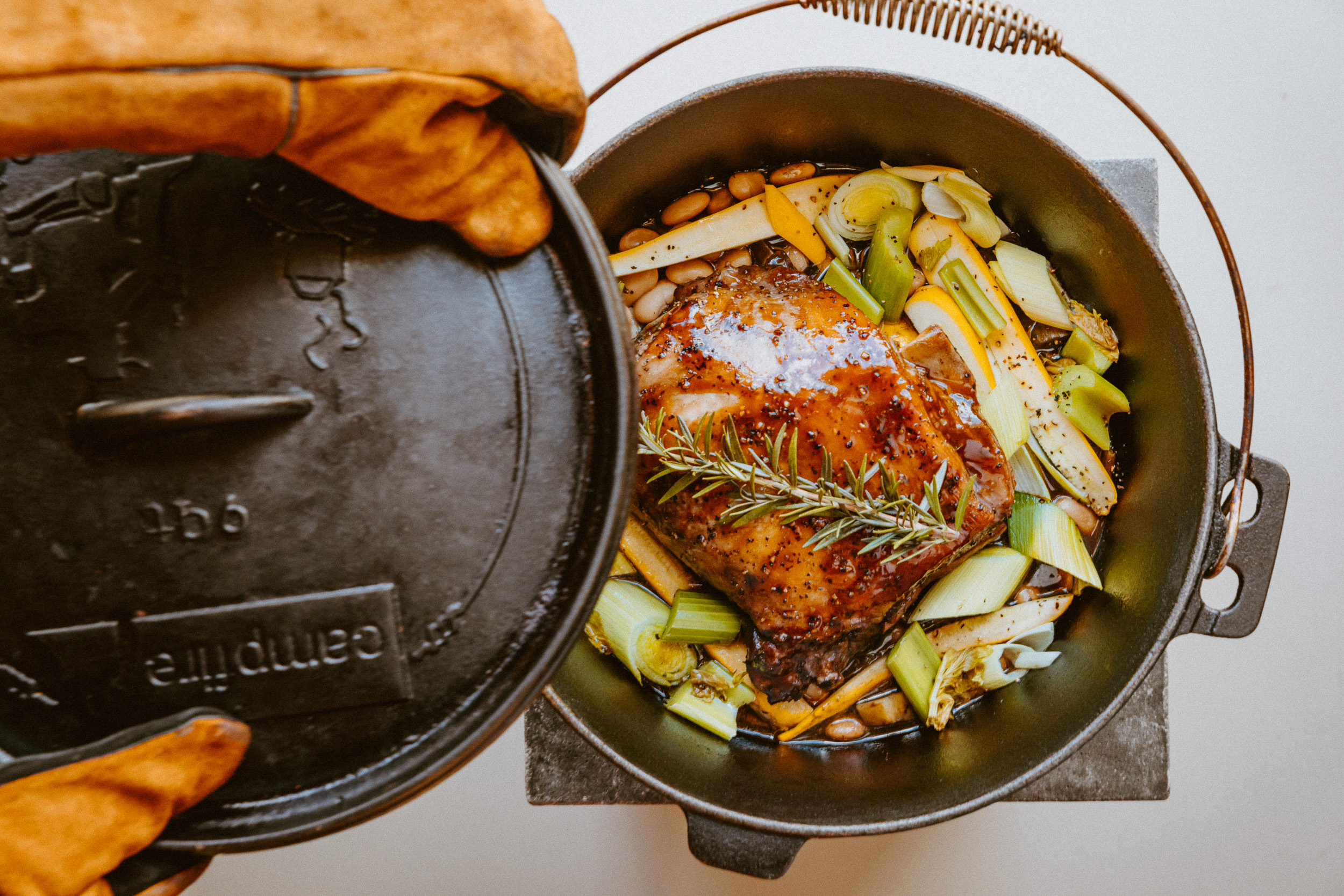 While it does change from night to night, our mains typically include dishes like: apricot lamb shoulder curry; house teriyaki beef cheek; beef shin osso buco, and classic lamb shoulder roast. All mains are cooked slowly over fire and for hours with love until the meat is falling off the bone.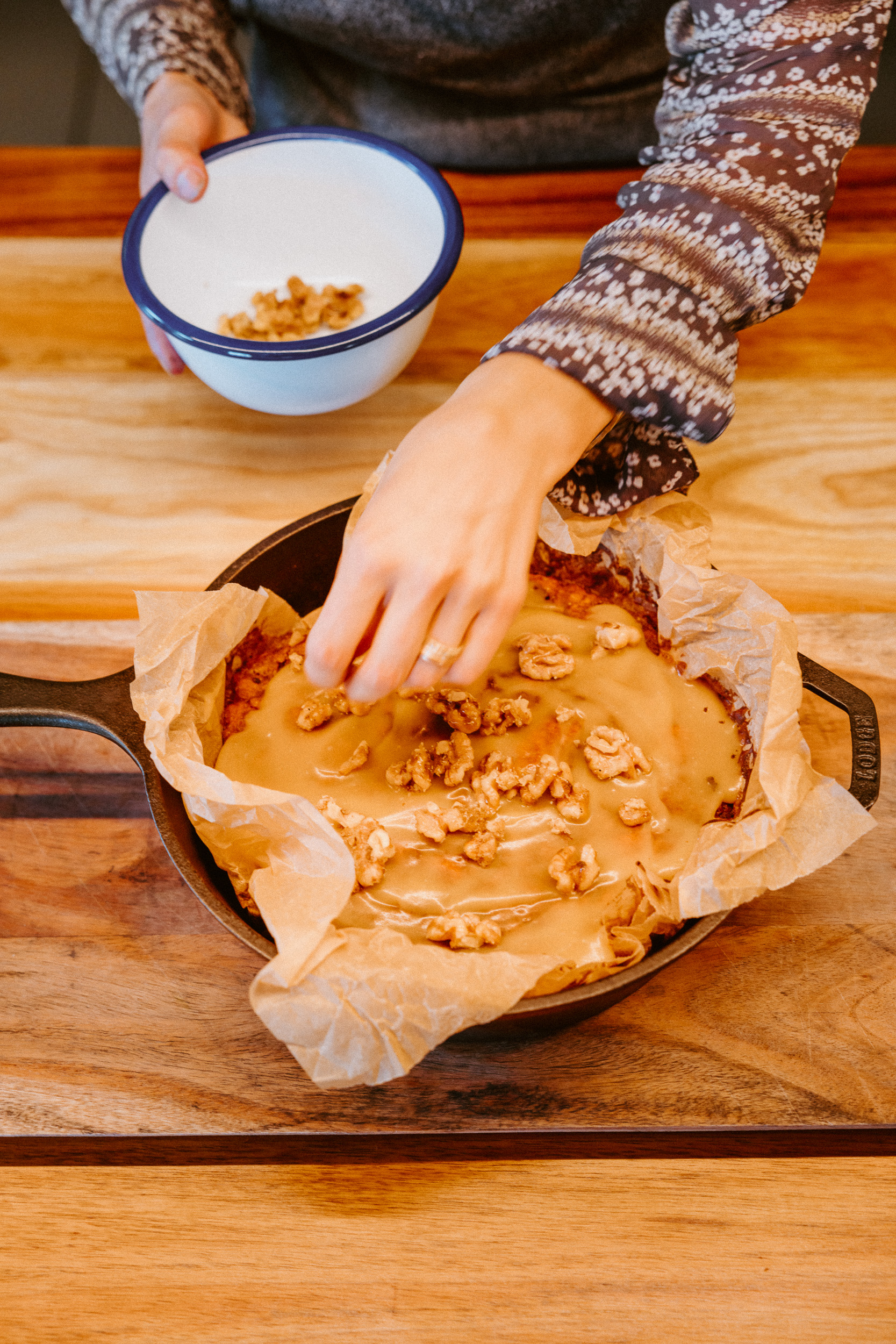 We always like to finish with a baked dessert served with an artisan ice cream. Our desserts typically include dishes like: sticky date pudding, baked apples stuffed with prunes and brown sugar, baked whole pears with vanilla bean and a touch of spice.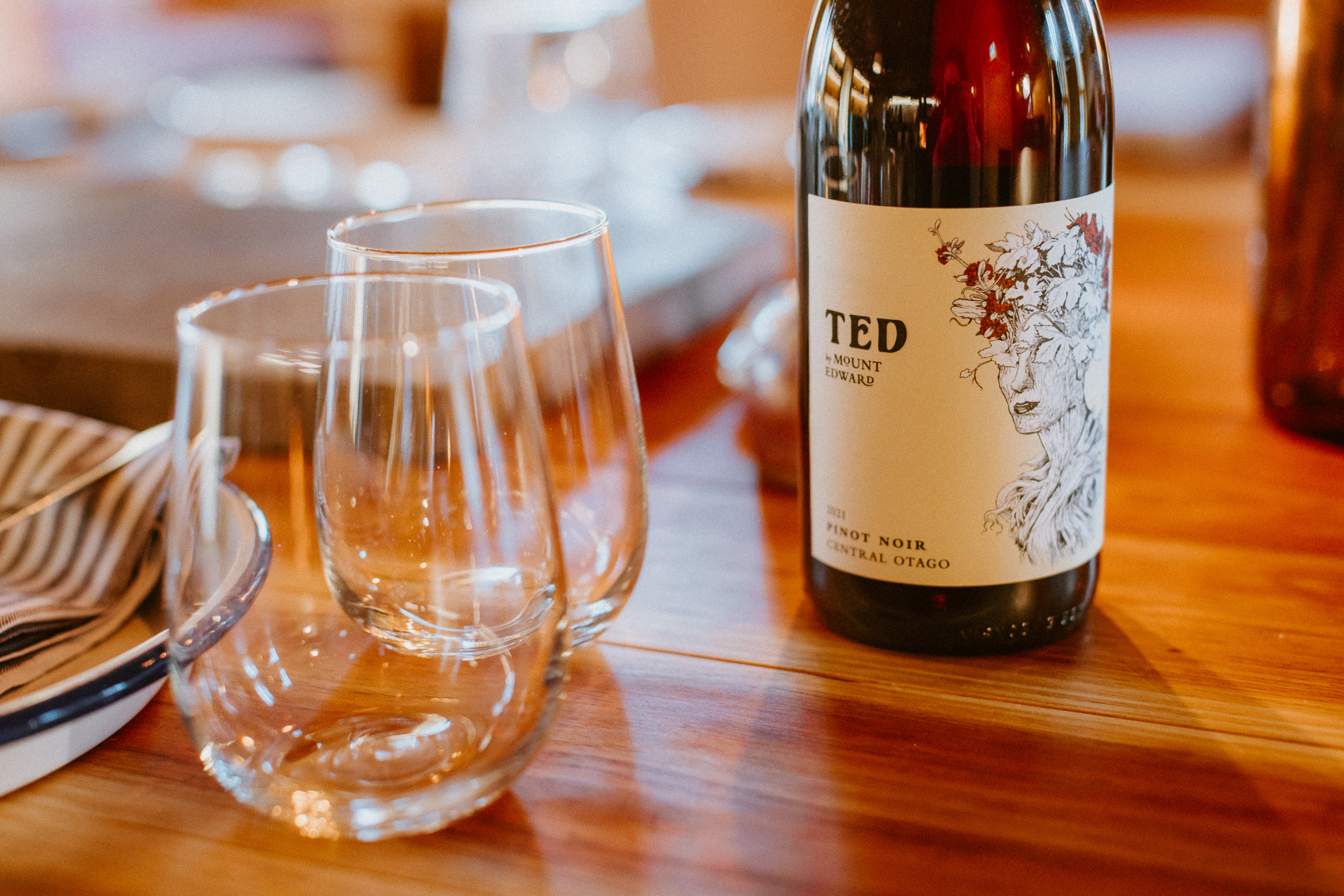 In the theme of decision free, we have selected two of our region's finest to accompany your meal; Mt Edward Pinot Noir, and Powder Day Pilsner from our friends at Altitude Brewing Co. We always have an artisan light, and zero percent beer along with a range of soft drinks from Chia Sisters.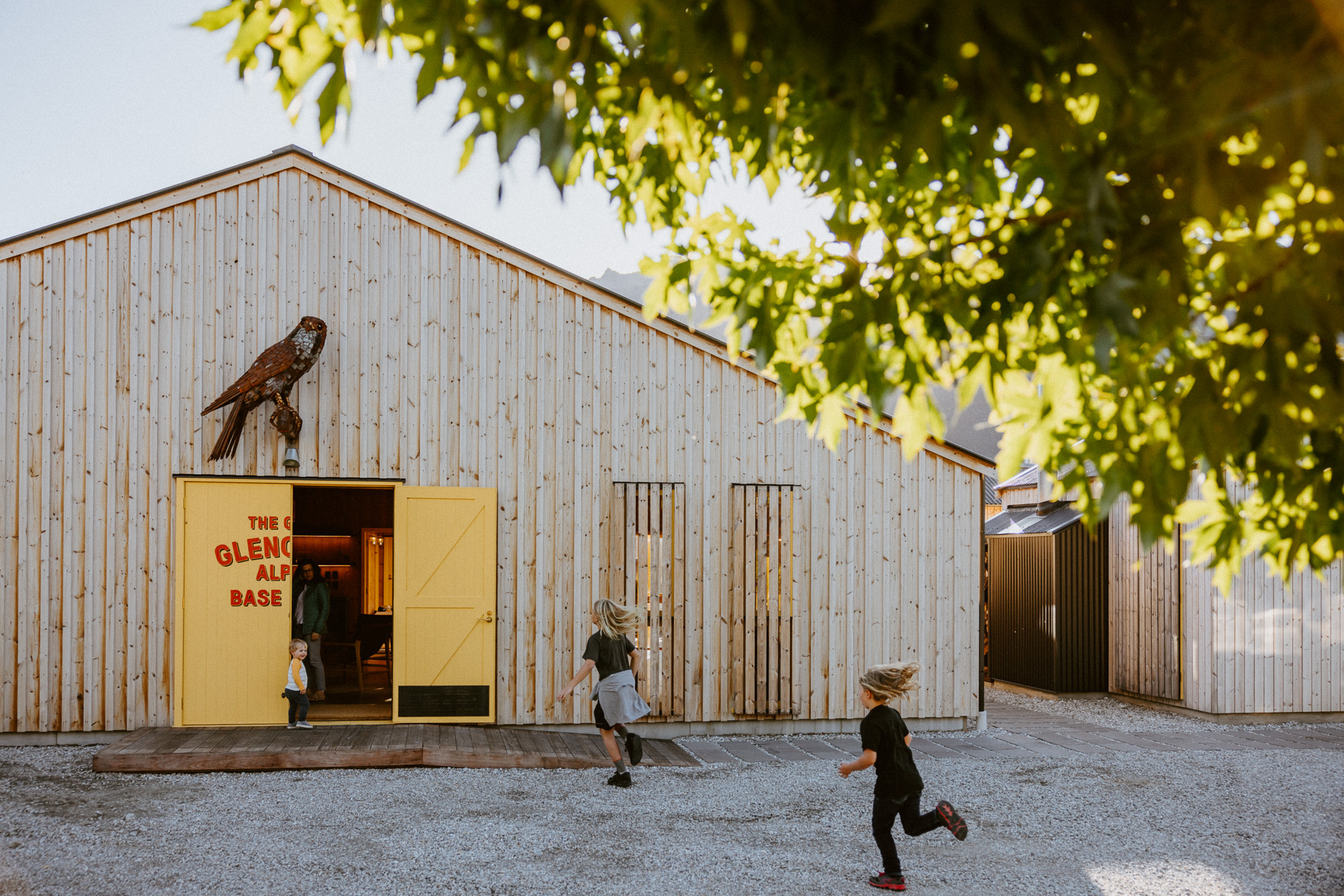 WORLD HERITAGE ON YOUR DOORSTEP
49 Oban St
Glenorchy 9372
New Zealand
"Girls Just Wanna Have Fun"…Glenorchy Base Camp. Two day sub-alpine hike. What a challenge! All thanks to Doug, Liz & the incredible team at Glenorchy Base Camp. What an experience, incredibly challenging but certainly an achievement. Loved every minute… Excellent accommodation facilities, deliciously hot showers & sauna, attentive service, excellent hosts and sublime meals.... thanks Liz!! Can't recommend them highly enough.
I've held off on writing this review for a few months as it's positive effect on our young family has continued to grow! It is more than just a place to stay. We arrived with reservations that we may not be "adventurous enough" and our kids too young. We left feeling like all of our cups had been filled up and capable of anything we choose to do! This is how inspiring and intuitive everyone is at Basecamp. Of course, it's hospitality at its best but it goes deeper than this, it facilitates those invaluable experiences we spend with each other and especially with our children that allows us to go about daily life with a little more strength and understanding. Just gorgeous, we can't wait to return!
The most amazing tailored experience for our family that created the most special memories.
Our family had a wonderful weekend, we felt the warmth of the team as soon as we arrived. We loved our cosy hut and the food was just so delicious, exactly what we needed after our busy days outdoors. We were not ready to leave....
We always love our stays at TGGBC! Thanks so much for creating this awesome experience for our family to enjoy team
Are you open for lunch?

No, the bar opens at 6:00pm and we have one dinner seating a night at 7:30pm.
Do you offer breakfast?

Yes, but only if you are staying with us.
Are marshmallows included (for adults and kids)?

Yes! We also have toasting skewers.
Do you do private functions?

Yes, but 'book a call' to contact us beforehand to make sure we can meet all of your preferences.
What is available at the bar?

We have selected two of our region's finest; Mt Edward Pinot Noir, and Powder Day Pilsner from our friends at Altitude Brewing Co. We always have an artisan light, and zero percent beer along with a range of soft drinks from Chia Sisters. 
When do I pay for my meal?

You pay for your meal and drinks tab at the end of the night. Or if you're staying with us you can pay when you check out.

If you have purchased an adventure, your restaurant meals will be included in the package.
Is the restaurant child-friendly?

Absolutely, usually the adults share a big table and kids sit in booths, we also prepare kid-friendly meals separately. There's plenty of room for the kids to run around outside — even a small climbing wall. And if they run out of things to do, toasting marshmallows around one of our outdoor fires is a crowd pleaser.
How are the kids' meals different from the adults?

The kids' meals are still slow cooked over fire in cast iron like the grown ups, but are usually a simplified version more suitable to a child's palate. — Think classic dishes like slow cooked lamb shank, honey carrots, perfectly cooked greens and crispy roast potatoes.
Can I bring a bottle of wine?

Unfortunately no, we have a strict NO BYO policy but our bar opens at 6:00pm and we have something for everyone.
Can I choose my dish in advance?

No, it's chef's choice every night, however we can accommodate any dietary requirements you might have, you can specify this while booking.
After dinner can I decide to stay overnight?

Of course, given we have availability, but it's always best to book in advance just in case.