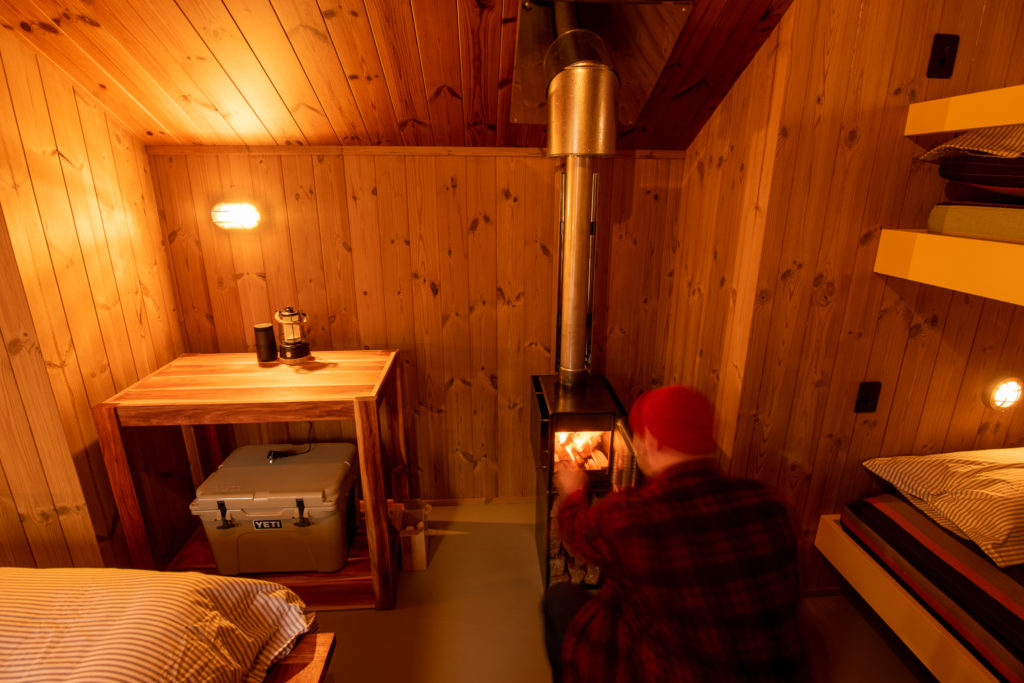 Family Cabins, Bunk Beds and Self Contained Huts available for your Glenorchy accommodation.
With an arrangement of alpine inspired huts, each with their own wood fired heater to keep you warm and cosy, come and stay in your perfect Glenorchy accommodation. Shared facilities and a wood fired restaurant, outdoor fire pits, sauna, laundry and drying room facilities. Make the Glenorchy Alpine Base Camp your home base for daily missions, or your start and end point.
Not every adventure in the UNESCO South West New Zealand World Heritage Area needs a guide, but for those on their own outdoors mission, a comfortable place to stay and linger in the mountains a little longer is something we have thought about for a while and have created just for you. 
The Great Glenorchy Alpine Base Camp has been created by outdoors people, for outdoors people. 
We have three different types of Glenorchy accommodation available to book, with arrangements to suit each type of adventure family,  individual or group.
Linen, pillows and bath towels are provided, but feel free to use your own sleeping bag.
Shared facilities include toilets, bathrooms, sauna, BBQ pit fires (to cook your own meals) cast ironware included, or dine in our wood fired restaurant if you choose. Each hut has its own bluetooth speaker, wifi and chilly bin to keep things cool. Full laundry facilities and drying room for your post adventure cleanup, at no extra charge.
We also offer Queenstown airport transfers and track transfers from Base Camp to your start or finish point.
Family Cabins – Perfect for the family unit, our family cabins have room for four. Sleeping arrangement is a Queen bed, and double bunk.
Bunk Huts – Book a bed by the night in a bunk hut shared between 6 people. 
Self Contained Hut – Very special huts with Queen size bed, coffee table and chairs around the fire with kitchenette and ensuite. Wheelchair accessible.
You will be hanging out with your kind of people. Essential to book and if you are after a more complex booking, contact us to have a chat.
Searching Availability...