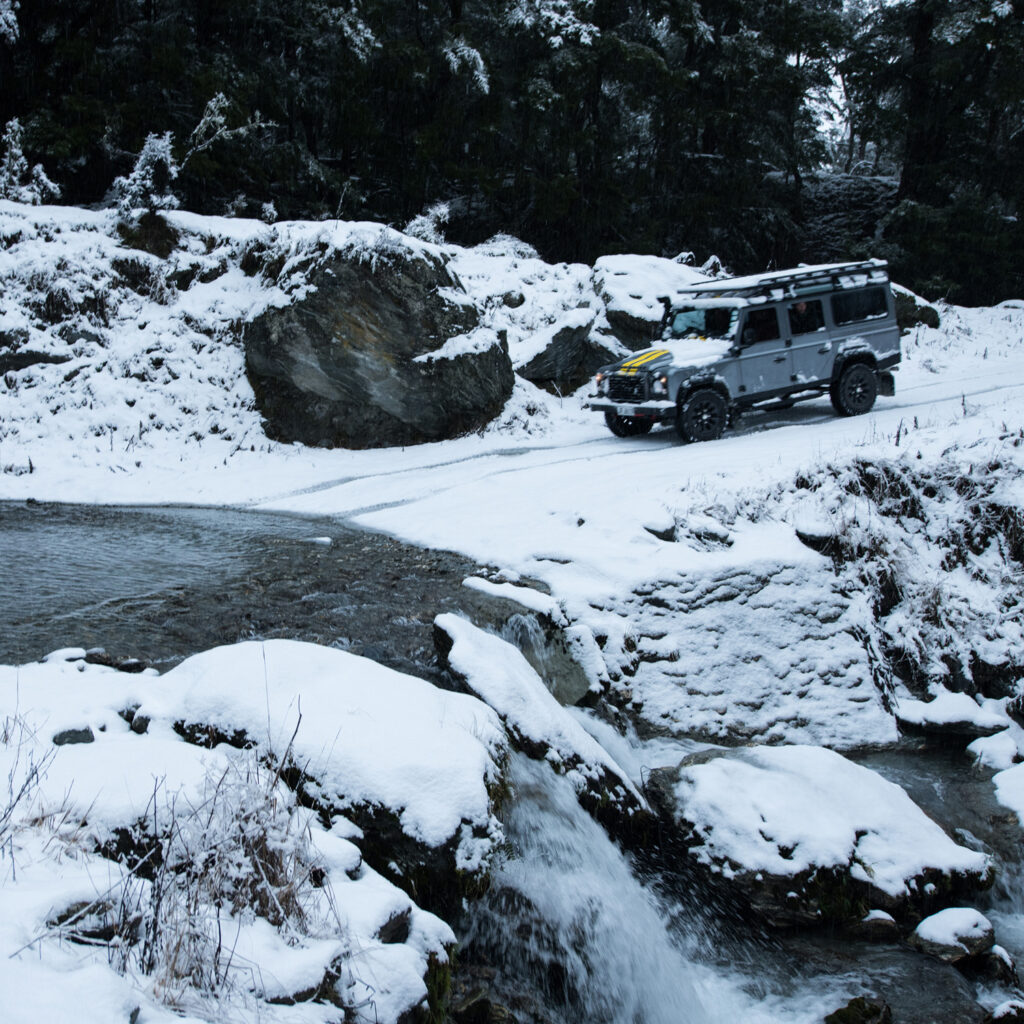 Pricing from $600 per head
(Based on 4 pax, excluding GST and any transfers)
We know a place… One full day and not so weather dependent. We can collect you or you are free to meet us at The Great Glenorchy Alpine Base camp. Before we meet you in person you will have already booked with us, received a packlist and we will know all about your experience, fitness among other important stuff. Any technical equipment you might require can be provided by us (hire). 
This guided, catered and carefully curated adventure will suit couples and families of up to 5 with a nice wide age suitability and fitness requirement. 
You will love the Land Rover Defender 4×4 trip into a wild and remote river system, many river crossings (lots and lots), stops, delicious mountaineer nourishment(s) with a hike up through the Beech Forest onto the alpine zone. The particular destination has spectacular views, hundreds of waterfalls and tarns. Absolutely stunning. 
We can pick you up early in the morning – or if you have your own vehicle you can meet us at The Great Glenorchy Alpine Base Camp. Either way, the drive is one of the most scenic in the world.
You will meet your guide and you will be briefed and your gear will be checked. All other technical gear will be fitted and supplied. Pre trip checks done, and you will jump in one of our Land Rover Defender 4X4's, headed for the remote and spectacular Rees River valley. The many river crossings are great fun and you will stop along the way for refreshments and to take in the amazing scenery in this very remote area.
Once on the eastern edge of Lennox falls, Mt Earnslaw, you will commence your hike up through the Beech forest to Kea Basin in the alpine zone. It's a 2-3 hour tramp and well worth the ascent and with a low to moderate fitness requirement, you will be able to really enjoy every minute of it. Kea Basin is beautiful and this spectacular alpine landscape is littered with many wonderful waterfalls and tarns. 
A hearty lunch at Kea Basin and then the descent back down to the Defender for another trip down the Rees River valley back to The Great Glenorchy Alpine Base Camp where the home fires will be burning. Freshen up, maybe a sauna, some refreshments before the trip back.
Note: There is no obligation on you and no cost when you press the 'register interest' button. Your registering interest will trigger one of our awesome team members contacting you to go through a few things and to do our best to make the adventure work for your particular group, group size, dates, adventure duration and any special requirements. No pressure, no fuss, nice and easy.